Qin Huai Hospital, Nanjing
Thank You
These red banners were hung throughout the hospital ward. Patients would have them made to tell the doctor how thankful they were that they are now better and to compliment the doctor on his technique and manner.
NUCM
This is me outside the Nanjing University of Chinese Medicine campus.
In action
This is me giving acupuncture to a patient with shingles pain under the watchful eye of Dr. Xue.
Needling a patient with vertigo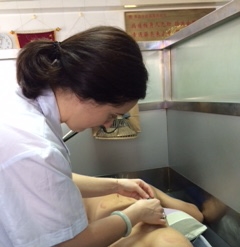 Applying Moxa to ShenShu BL23
Me at the Nanjing International Acupuncture Training Centre